Universal Pension Scheme in Bangladesh – Everything You Need to Know
If you are a citizen of Bangladesh, then I've good news for you. Are you ready?
Bangladesh's government has recently announced a universal pension scheme for everyone. Previously this feature was only available for people working in the government sector, but now everyone can avail of this.
One of the main reasons behind opting for a government job was securing a better future and getting a pension after 60 years. But as now it's open to everyone, people are quite happy.
In this content I'm going to talk about all the packages available at the moment, who are eligible for these packages, how to pay monthly installments for these packages. And the most important thing is how much people will earn after their retirement.
So, get your gear ready.
Basically, people aged from 18 to 50 years can opt for these packages. The age will be decided by their National ID. One has to pay installments for a minimum of 10 years before he can start getting the pension benefits. The highest ceiling is 42 years.
So, someone who is 18 years old can take a 42 years plan and someone who's 50 years old can take a 10 years plan.
Let's talk about packages. There are currently 4 packages available to people. These are,
Probash
Progoti
Surokkha
Shomota
Now I'll talk about these packages individually.
Probash:
Bangladesh has a lot of workforce working abroad. They work day and night and they continuously send remittances to Bangladesh. Probash package is for people working abroad.
Monthly Fee
5,000
7,500
10,000
Total Fee Time (in Years)
Monthly Pension
42
1,72,327
2,58,491
3,44,655
40
1,46,001
2,19,001
2,92,002
35
95,935
1,43,902
1,91,870
30
62,330
93,495
1,24,660
25
39,774
59,661
79,548
20
24,634
36,951
49,268
15
14,472
21,708
28,944
10
7,651
11,477
15,302
Probash Pension Scheme
There are many cases where we can see people have spent their entire lifetime in abroad. They came back being old and now they have no money to spend. Probash package can really secure these people and they too can have a retirement plan. After all, they've done so much for the country.
Progoti: 
This package is for the people working in a private company. If the company wants, they can chip in and contribute a part of the monthly installment. Many private companies provide pensions and provident funds for their employees, but most of them don't.
Monthly Fee
2,000
3,000
5,000
Total Fee Time (in Years)
Monthly Pension
42
68,931
1,03,396
1,72,327
40
58,400
87,601
1,46,001
35
38,374
57,561
95,935
30
24,932
37,398
62,330
25
15,910
23,864
39,774
20
9,854
14,780
24,634
15
5,789
8,683
14,472
10
3,060
4,591
7,651
Progoti Pension Scheme
That's where Progoti package comes in place to help these people.
Surokkha: 
This package is for those people who are working solo. Suppose a farmer, doesn't work for any private company, or a freelancer, he doesn't have any fixed job. For these people, Surokkha can work like a wonder because after their retirement they can get some money every month to continue their life smoothly.
Monthly Fee
1,000
2,000
3,000
5,000
Total Fee Time (in Years)
Monthly Pension
42
34,465
68,931
1,03,396
1,72,327
40
29,200
58,400
87,601
1,46,001
35
19,187
38,374
57,561
95,935
30
12,466
24,932
37,398
62,330
25
7,955
15,910
23,864
39,774
20
4,927
9,854
14,780
24,634
15
2,894
5,789
8,683
14,472
10
1,530
3,060
4,591
7,651
Surokkha Pension Scheme
A big portion of the female citizens are housewives. Housewives look after everything in the family and they are not well compensated. They are also included in these packages, and now they can get pensions and spend wisely after their retirement age.
Shomota: 
The last package is for the people who don't earn much. For these low-income people, they will provide a monthly installment, and the government will match their money and provide an equal amount and this will be the total amount. People who fall under low-income criteria suffer a lot to maintain their everyday lives. With this pension package, they will be slightly tension-free.
| | |
| --- | --- |
| Monthly Fee | 1,000 (Pensioner 500 + Government 500) |
| Total Fee Time (in Years) | Monthly Pension |
| 42 | 34,465 |
| 40 | 29,200 |
| 35 | 19,187 |
| 30 | 12,466 |
| 25 | 7,955 |
| 20 | 4,927 |
| 15 | 2,894 |
| 10 | 1,530 |
Shomota Pension Scheme
Let's dive in and check out how to create an account.
To create an account, you need to go to this website, upension.gov.bd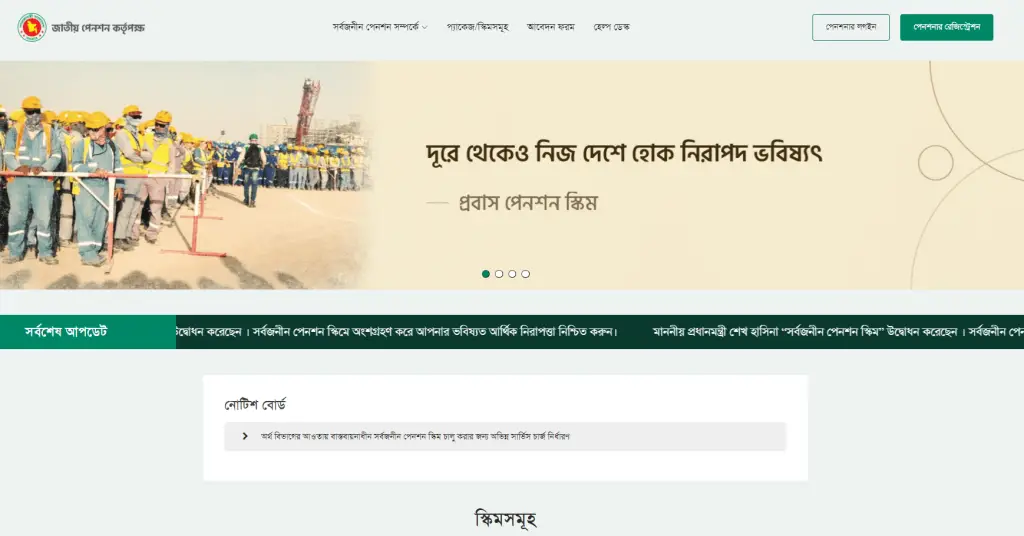 On the top right, you can see a green button that says "Pensioner Registration". You've to click on that.
On the first page, you have to choose which package you want to choose. You can choose any from Probash, Progoti, Surokkha, and Shomota depending on which package is most suitable for you.
Agreeing all the Terms & Conditions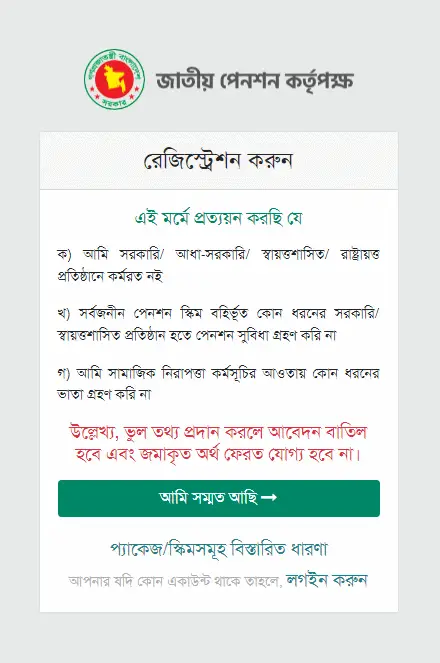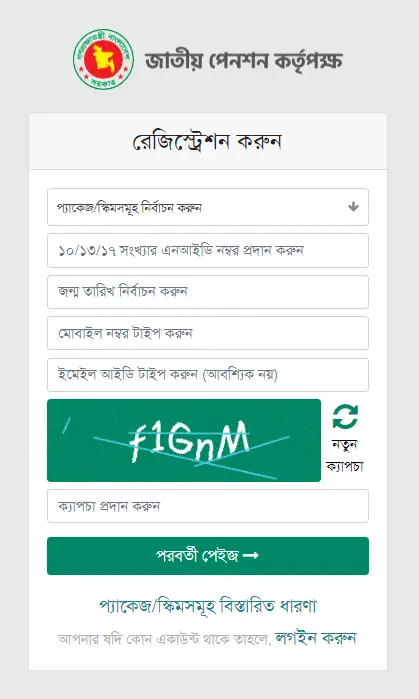 Schemes, NID, DOB, Mobile #, Email
You also need to provide the National ID number, your birth date, mobile number, and email address.
The website will fetch all the necessary information using your NID number. You have to provide your early income and your profession.
Then you have to provide how much money you are willing to pay in installments. You can pay the installment monthly, yearly, or even every three months.
Then you have to provide your banking information. Make sure your name in your NID matches the bank name.
Then you have to provide all the necessary information about the nominee. You need to declare your relationship with the nominee. You can add multiple nominees if you want.
So, you're done providing all the information. Now you have to pay the installments. You can wire money from your bank or you can use any mobile financial service like bKash / Nagad etc. to fulfill the transaction.
After successful payment, you can download the slip.
After completing everything the website will give you an option to create a user. The website will provide you with a unique user ID and you have to give your password. Later you can use that username and password to check your application status.
This was basically a very simple process. Not complicated at all. If you're curious about how much money you will receive after 60 years, then you can check different charts.
For example, someone under Surokkha package who is paying 1000 taka per month for 42 years will get 34,465 taka per month after he/she's 60. Then someone who is paying 5000 taka for 10 years, will get 7651 taka per month after he/she's 60.
There are some more FAQs that you can check on the website yourself.
It's a giant step for Bangladesh, making the citizens feel safer about life after retirement. How this rolls out and how many people opt-in this, we'll see that later this year. But for the time being it looks promising and let's hope for the best.
What do you think about the universal pension scheme in Bangladesh? Are you going to create your account? Let us know.