Running a Half Marathon for the First Time
This is my story of running a half marathon for the first time. I've always wanted to participate in a half marathon. But, whenever I used to see hundreds of people running in a marathon, I wondered, how can someone run at such speed for such a long time.
I always wanted to be one of them. Back in 2019, I saw a video of an older adult who started running in the age of mid-'60s. 
That got me thinking if someone in his 60's can start running, why can't I? So I started running in my local gym trade mill. 
In my gym, there was a time barrier. Like one can't use the treadmill for more than 20 minutes. So, I used to use the treadmill every day for 20 minutes.
At first, I didn't run in my local park. I felt embarrassed. Because I was thinking, what if I start running and lose all the stamina within 5 minutes, that's why I started my training in the local gym treadmill.
So in this article, I'm going to share how I completed my first half marathon. By half marathon, I mean 21.1 km. 
But before taking part in the half marathon, I completed multiple other events. So I will share those stories as well.
Running a half marathon for the first time
Preparation
The preparation for a half marathon is a long shot. Not only does one have to increase his stamina and endurance, but he also has to eat properly. 
I've written many articles focusing on the diet on this website, like what to eat before and after the half marathon. Even there's a guide on what to wear for half marathon. So you can check those articles if you need any information.
But for me, I started running in my gym treadmill and then in my local park. I only took part in small distance running events in my first year. Like 7.5km and 10km. 
That time, I wasn't confident enough to take part in a half marathon. So finally, after one year, I took part in my first half marathon.
BDRunners
We have a community in our country which is dedicated to runners only. The group has 20k people in it. It's basically a Facebook group. 
Noob runners like me go to this group to get inspired. Whenever I visit this group, I see many people posting their workout photos and videos. It really feels good to have an active running community around me.
CCCL Run Bangla 10k
The very first running event I attended was CCCL Runbangla 10k. CCCL means Cadet College Club. 
I didn't participate in any event before this one. So I was a bit confused about what to expect. 
Eventually, there was a day before the racing event called Kit collection day. There was a certain venue where I had to go and collect my running shirt and BIB number. 
Before that, I had no idea of the BIB number. BIB number is basically a piece of paper that runners need to attach to their running t-shirt. 
Each BIB number contains a different number that represents a single runner. There's also a tracker in the BIB which can track each runner's finishing time. 
So I went to collect my kit, and then I had to wait for the race day.
The race took place on Hatir Jheel track. The track is AIMS certified. The entire track length is 7.5km.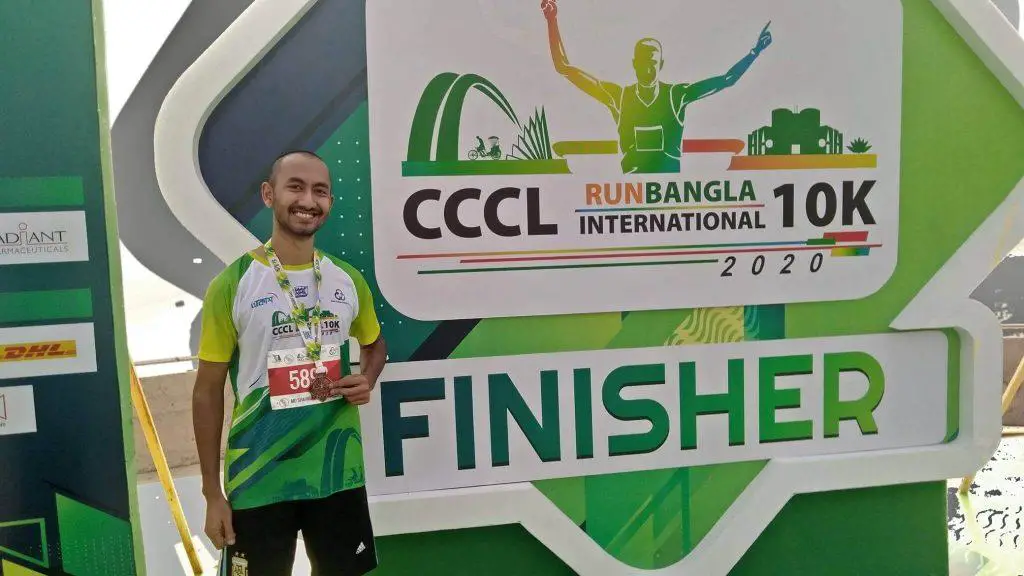 There was only one race category, which was 10km. So we had to lap once in the entire track, then we had to cover some more distance. 
There were multiple hydration points throughout the racing ground. 
I went to the venue at 5 am, and the race started around 6 am. The feeling of running with a lot of people is priceless. 
I stopped a couple of times when I couldn't run at a stretch. I walked a couple of minutes, gathered my energy, then started running again. 
I couldn't run the entire time. But I didn't do bad either. I completed the run with a time of 1 hour and 2 minutes. It was my first running event. This was basically how I started my running journey.
Dhaka NEXT 10K Virtual Run
So, after a successful run in CCCL RunBangla 10k, it boosted my confidence. I was no longer running only on the treadmill. I started running in my local park as well. 
If you want to know my timing, I was running 5km in 30 minutes. And my stamina improved day by day. I could run longer without taking any break. 
Then after a couple of months, I was practising more and more and building my running stamina and endurance. I was looking out to participate in more events. That's when I heard about Dhaka NEXT 10k virtual run.
Before this, I had no idea how virtual run works. I thought running could only happen live. But it can also happen virtually. I was completely unaware of this. So I signed up for this.
It works because there will be a time duration, which we call cut-off time. For 10km cut-off time was 90 minutes. And there was a window of 2/3 days.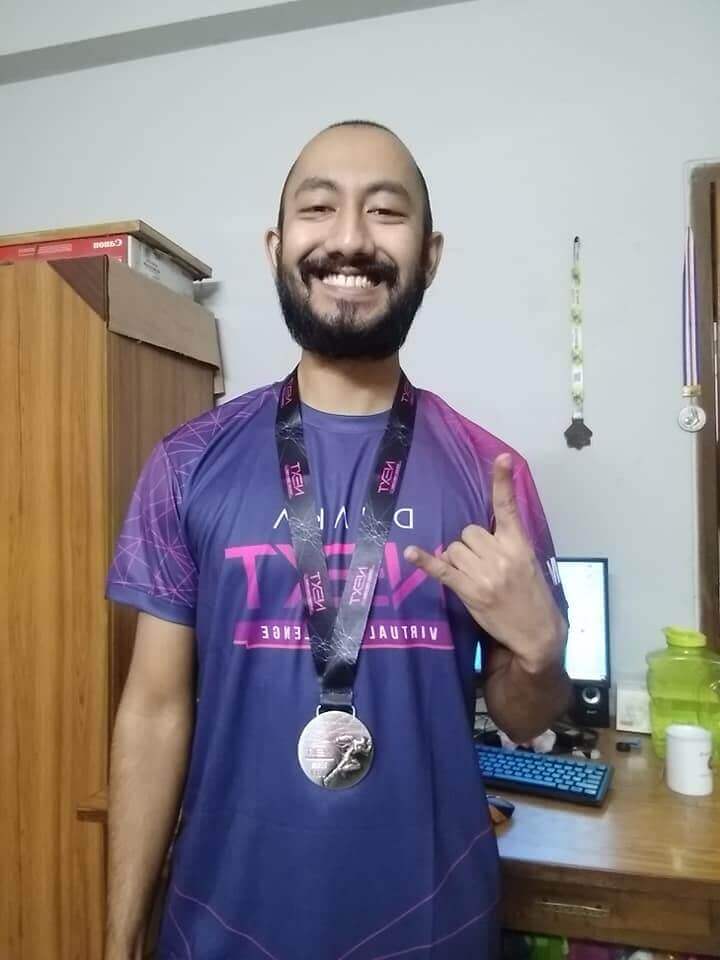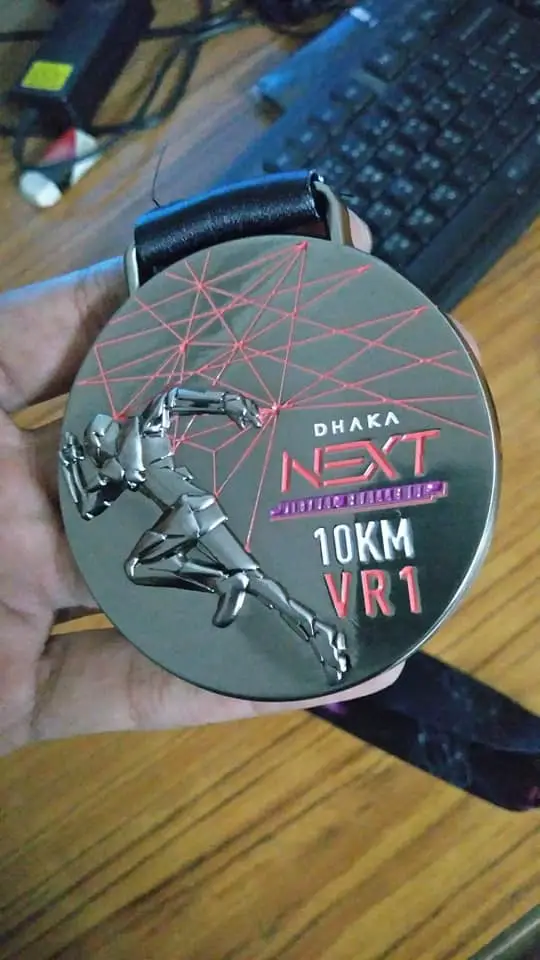 So basically, I have to complete 10km and record it within Strava. So I have to complete the entire 10km within one go. It was pretty self exclamatory. Not too complicated. 
So I ran to my local park in the morning. There's normally a low volume of people in the morning in the local park where I run. I ran and recorded. Then after recording, all I had to do was save it on the Dhaka NEXT platform. And it was good to go.
Dhaka Half Marathon 7.5k
I had already completed two running events. And both of them were 10km. So I had a little bit of confidence that now I could try a half marathon. 
This time I got the chance to take part in two more virtual running events. The organizer was Dhaka Run Lords. It was in 2021. 
They announced two events, one will be 7.5km, and the other one will be 21.1km. After thinking a couple of days, I thought I could do both of them, so I registered for both of them.
Running 7.5 km was easy. I didn't face any problems. They gave me 3 days of time span to complete both events. 
On day 1, I went to my local park, ran 7.5 km and recorded it. It was really easy, as I already had the running experience of 10km. That day after running the course, I went home and decided I would not go outside and give myself rest that day and the following day.
Was I ready for running a half marathon for the first time?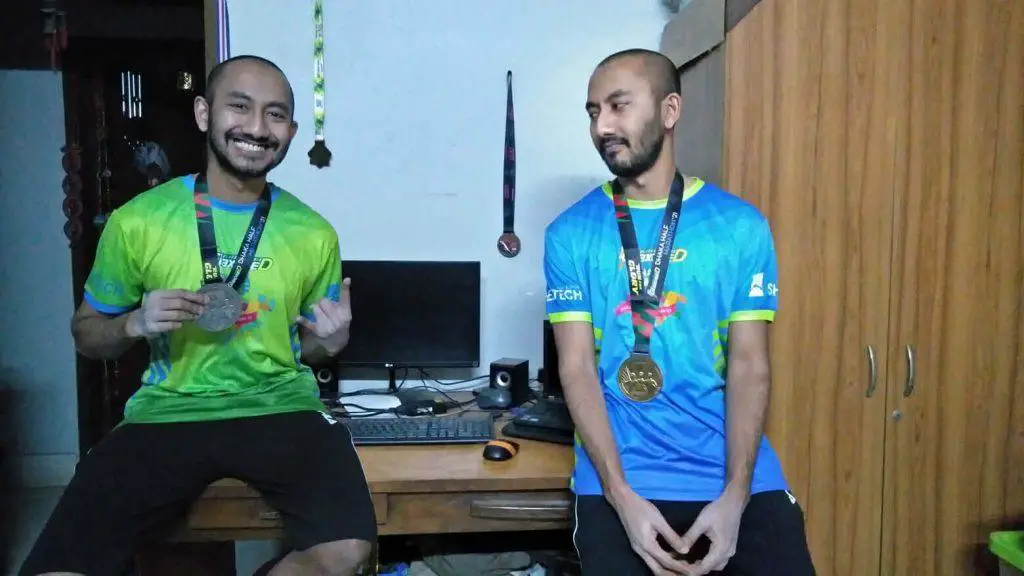 Dhaka Half Marathon 21.1k
On day 3, I went to my local park. And started running slowly. It was my first half marathon, and I was very tense. I jogged slowly. 
The time given for half marathon was 4 hours. It took me 3 and half hours to finish my first half marathon. After completing 14/15 km, I started feeling a bit dizzy. But I kept myself hydrated and finished the run within the given time.
I was bedridden for the next couple of days. My feet took a huge toll, and it was giving me so much pain that I can't describe properly. 
But later, I realized that I was supposed to do a recovery run after a long run. Which I didn't, and I had no idea. So I had to learn it the hard way. But I was happy. Running a half marathon for the first time was a great experience.
Athlethon Mirpur Half Marathon 7.5k
This was the last run in my portfolio. It was a 7.5km run, and it took place in a brand new running track where I'd never been to in my life. 
As the duration was only 7.5km, I was quite relaxed that I could finish this with ease within the given time. And that's exactly what happened.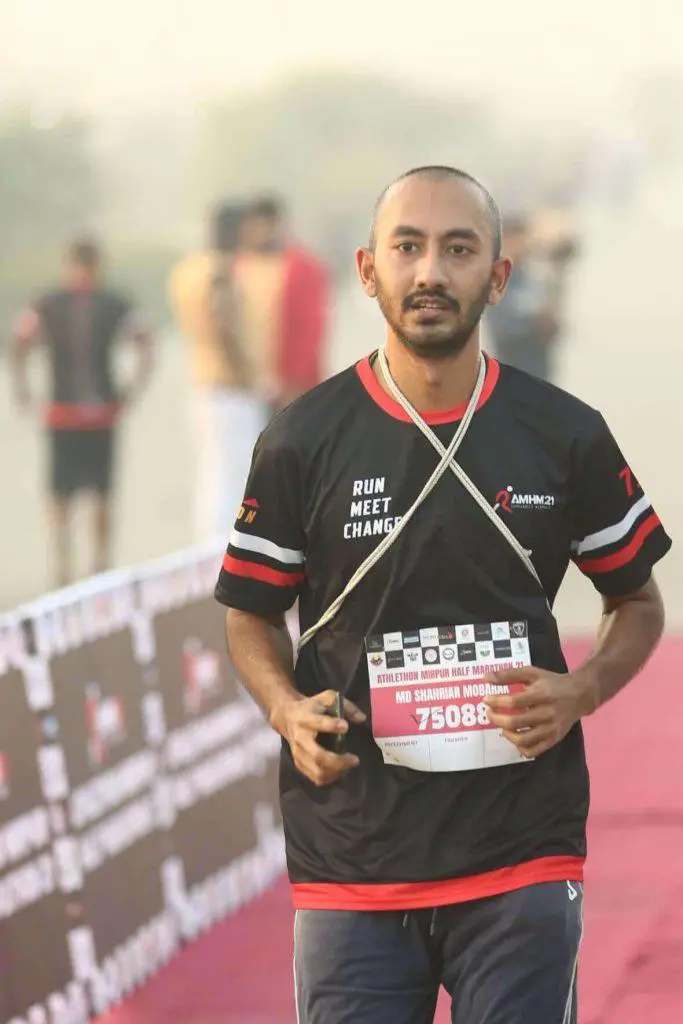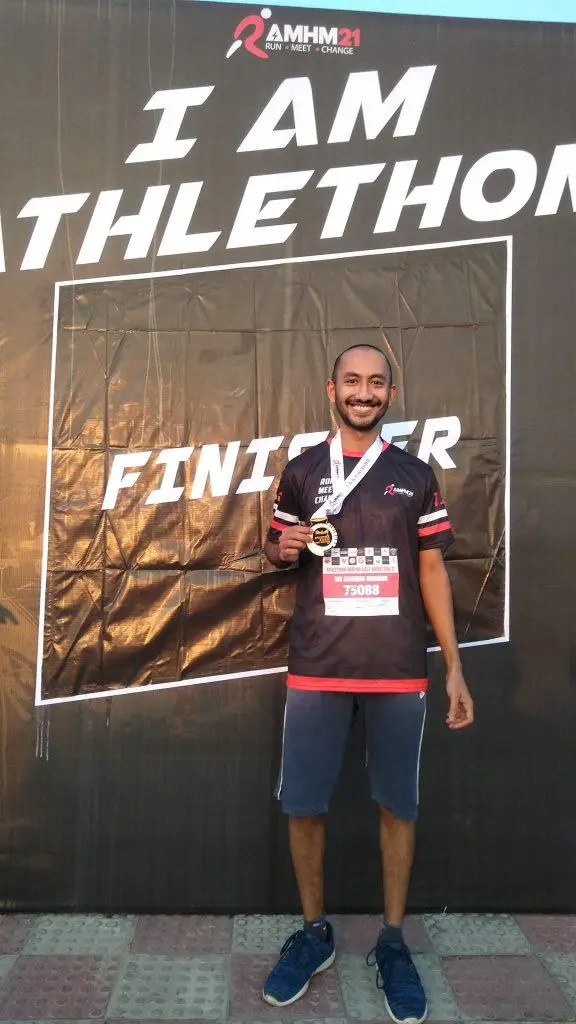 I finished the run in 45 minutes. The track was amazing, and the atmosphere was outstanding. I will never forget this race.
Biman Bangladesh Half Marathon 7.5k
I've recently completed my 6th running event. It was called Biman Half Marathon 2022. This event had two segments in it. One was 7.5k, and the other one was 21.1k. I opted in for 7.5k.
I experienced a different experience in this event that I will talk about in a moment. Before that, let me tell you something about the event. Who organized it, and what was the purpose.
So Basically, Biman Bangladesh organized this event. I live in Bangladesh. Biman Bangladesh is the first airlines' company in this country. It's been operating since 1972. So in 2022, it completed 50 years of journey in this country.
To celebrate 50 years, Biman Bangladesh planned this half marathon event. And 50 years is a long time. This is a huge milestone, and I wanted to be a part of it to tell my grandkids that I was a part of the first airlines golden jubilee celebration.
Long story short, I thought 7.5k would be a nice duration since I'm not quite active for the last couple of months. And the race happened on 11th February 2022.
I had one of my university friends join me. So, it was not only me running on the track. Now I will tell you a funny story.
Before the event, I woke up as usual 3 hours early. I already had everything packed, so I got freshened up, ate some food, and prepared myself. I had plenty of time, and I thought I would definitely get some transportation. But as soon as I got on the road, there was absolutely nothing. No car, no bus, no CNG, no rickshaw, nothing. So I walked and walked.
I'll kid you not. I walked almost 5km before I could reach the starting point. I think it was just pure my bad luck. I'll try to manage better transportation from the next event. I don't want to walk 5km before my race ever again.
So the race started at exactly 5:45 am, just like they stated. The weather was good. It was my 6th running event, but it was first for my friend. He really enjoyed it. I ran along with him the entire time.
From time to time, he took water from the hydration point. It was fun nonetheless.
The cutoff time was 1 hour 15 minutes for 7.5k. We both finished within that time. After the race, there were tons of food, beverages, ice creams, and whatnot. We ate like crazy because we were super hungry after that run.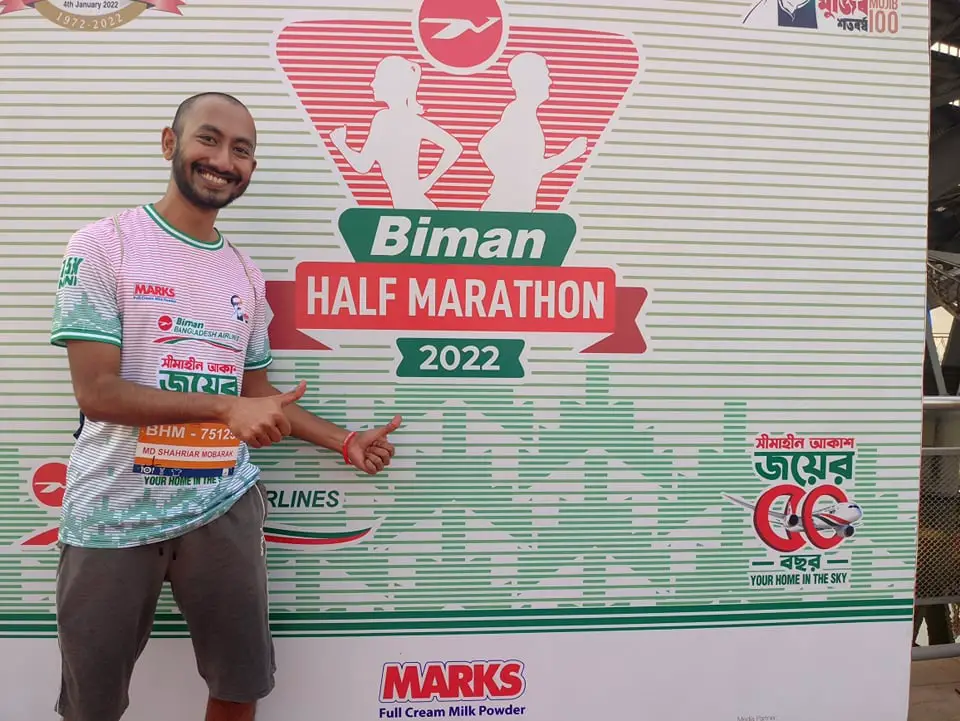 Then we got our finisher medals. We took some photos in the venue and uploaded them on Facebook because why not. After finishing the race and filling out the tummy, we head back towards our home. It was really a nice experience.
Now, I'm waiting for my next running event, number 7. Where will it be? Will it be in Dhaka? Bangladesh? Or anywhere else? Let me know what you think about my journey so far.
Hydration points
One of the best things about a live-running event is there will be multiple hydration points throughout the racing ground. But in a virtual event, this is missed. 
Also, the community comes closer in an event like this. Everyone can share their thought and experience in the live event. It's one of the few sports where everyone can take part. Whether you're a 10-year-old or 70 year old, the racing spirit stays the same. 
Not everyone runs for a podium, and for those who want to enjoy the feeling of running together, this sport is a blessing to them.
Endomondo Application
In the beginning, I used to track my running time with Endomondo. This is an amazing app. But unfortunately, the app is closed now. 
If you are reading this article just now and looking for the app, then don't bother. Because the parent company has shut down the app. You can't use it anymore. 
This is sad because it has a long history with so many athletes around the world. This was basically the go-to tracking app for every athlete to track their running, cycling, swimming, and whatnot.
Strava Application
They say when one door closes, another one opens. People are using the Strava application more than ever. It was already popular among many people, but the sudden shutdown of Endomondo made it even more popular. 
I'm using this Strava application as well. If you're not familiar with this, just look for the app in "Google Play Store" or "Apple iTunes". It is pretty easy to use. 
Just keep the app on your phone and turn it on when exercising. Turn it off when you're done with the exercise.
Achievements
So far, I've taken part in 5 running events. Among them, 3 were virtual events, meaning I had to run and finish the distance all by myself. And two were live. 
I completed two 7.5km, two 10km, and one 21.1km. I'm not planning for a marathon yet. I think I need more experience before I take part in a marathon. 
I will attend 10 more events before even thinking of a full marathon. A full marathon is a huge deal. 42.2 km is a very long distance. I don't want to pass out in the middle of the race.
Though I completed a half marathon, I'll still struggle with a half marathon in the future, I know because I'm not experienced yet. So I'll just gather more experience. I'll do more short-run, like 7.5km. Wish me luck.
Conclusion
Running a marathon is a huge deal. I personally haven't run a marathon yet. I'm only halfway there. But running a half marathon for the first time wasn't easy for me either. 
I had to complete multiple 7.5km and 10km before I had the courage in myself that I could finish a half marathon. 
It wasn't an easy road. I started walking. Then when I got comfortable walking, I increased my speed. Then slowly, I worked on my stamina and endurance. Then I started covering 1km without any break. 
I worked on my tempo run. Slowly I became confident, and after that, I started running 5km. It was a long journey and certainly not an easy one. 
If you want to finish a half marathon, you have to prepare yourself for that. There are multiple workout programs that you can find online from respected runners. You can follow their journey, and soon you will be able to achieve your first half marathon medal as well. 
I'm still a noob runner. I've only taken part in 5 running events. My goal is to participate in running events outside my country. Running a half marathon for the first time was the confidence booster for me.
I want to participate in at least 100 events, and some of them should be big ones like London Marathon. 
I'm not there yet. I still have to prove myself a lot. I still have to train a lot. But the result after that is definitely worth it.
Let me know what you think about my experience.