How To Clean Skateboard Wheels
When you're riding your skateboard, the first thing that gets dirty is your wheels. This is because wheels take all the damage from the ground. Every rough terrain you go to, every pothole you visit, every skatepark you've been to, your skateboard wheels experienced all the dust, dirt, water, everything. So now that you're looking at your skateboard, you might be wondering how to clean skateboard wheels? Well, fear not, because I'm here to help you with that. This detailed guide will teach you how to clean skateboard wheels.
What you'll need to get started
Before starting the cleaning process, you should gather some materials so that you don't get up from cleaning every now and then and kill the momentum. Here's a list of all the things you'll need:
Your skateboard
T-tool or wrench to pull out wheels
Tray for keeping the bolts
Container for keeping the wheels
Paper towel
Cleaning towel or rag
Bucket of water
Soap or cleaning liquid
Wire Brush
Secure your workspace
When you're trying to clean the wheels, which have literally rolled on all the road's dirt, you should be aware of keeping your workplace clean. Make sure you have enough space in your room because you'll be removing those wheels and bearings.
Depending on where you'll be working, you can spread papers on the ground or top of the table. That way, you can later recycle the paper, and the dust/dirt won't spread everywhere.
Remove the wheels
This is basically the first step of cleaning wheels. First, take your skateboard in your hand and use a wrench or skate tool to take off each bolt. Each wheel will have one bolt. In total, you should have four bolts in your hand. Keep the bolts in a tray safely so that you don't lose them once your cleaning procedure is done.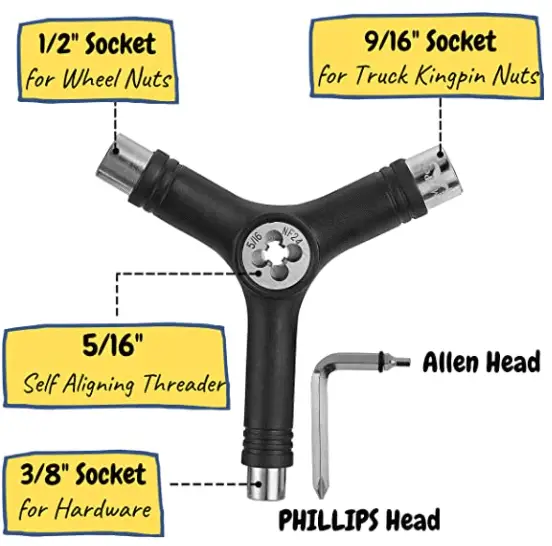 Remove the bearings
To clean the wheels, you must remove the bearings from the wheel. Each wheel comes with two bearings inside. In total, a skateboard has eight bearings. Place your truck axle inside your bearing entrance and give it some pressure. The bearings will come off easily. Place the bearings in a secure place so that you don't lose them.
Soak wheels in soapy water
You need to soak the wheels in the water. Yes, you can use water to clean the wheels. But only wheels, nothing else. Mix some good quality soap with water and stir it a bit, then drown all the wheels inside soapy water. Wheels have dirt outside and inside. Make sure the soapy water reaches all parts of the wheels to easily loosen the dirt attached.
Wire brush away the gunk
Keep a wire brush with you. You can easily find one in the nearest store. If you don't want to purchase a new wire brush, you can also use your old toothbrush. From staying in soapy water, all the dirt should come off easily. Just brush outside and inside the wheels properly so that no dirt or soap remains stuck in the skateboard wheels.
Dry the wheels with a clean towel
After cleaning your wheels with soapy water:
Rub and dry the wheels with a clean towel.
Make sure you haven't used this piece of the towel before.
Make sure the towel doesn't have any dirt on it.
Wrap one or two fingers with the towel and clean the inside of the wheels.
After cleaning the wheels now, you have all shiny dirt-free skateboard wheels.
How to clean skateboard wheels with household items
Cleaning wheels can feel like a lot of work, but in reality, it isn't. Almost all the items required to clean skateboard wheels can be found in your house. You don't need any special items other than the wrench or skate tool. You can use old household items to clean your skateboard wheels without spending a dime.
Reassemble your wheels and board.
Now that you have clean wheels put two bearings inside each wheel. Slide one wheel in each truck and tighten the bolt with a skate tool. Now you have shiny wheels in your skateboard, which are dirt-free.
Replace wheels
In the worst-case scenario, if your skateboard wheels are too damaged. If part of your wheel is broken and you know that it won't last another one/two weeks, you can always replace the wheel. You can buy wheels in a pack or individual wheels from the skate park. It's up to what your situation is.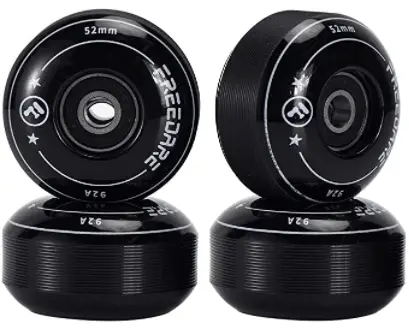 FAQ on cleaning skateboard
There may be more questions in your mind regarding cleaning skateboard. Therefore, I've written articles on cleaning each component, skateboard grip tape, deck, truck, wheels, bearings.
Should I clean skateboard wheels?
Yes, you should clean your skateboard wheels frequently. You can keep one day specially dedicated to cleaning the entire skateboard. You should take care of what's carrying you. If you do that, your skateboard will take care of you.
Conclusion
Now that you know how to clean skateboard wheels, don't think of this the end. Make this a bi-weekly or monthly thing. Keep some time dedicated to cleaning skateboard wheels.
If you take care of those wheels, those wheels will take care of your smooth journey. If you like this article about cleaning skateboard wheels, you can also check out some other content I've in store for you where I talked about cleaning skateboard bearings, deck, trucks, grip tape.
If you're stuck with cleaning other skateboard parts, worry not. As I've covered all of them. Check these articles out;
Do let me know whether this article was helpful to you or not. Till next time, take care, ride safe.