Every 2022 Formula 1 Changes in One Place
2022 is here, and formula 1 is just around the corner. So whether you're Lewis Hamilton or Max Verstappen fan, there are a few changes that you should know right now. In this detailed guide, I will share everything you need to know about 2022 formula 1 changes.
These changes will make the racing more interesting and awesome.
Wheel size changes
Now you'll see bigger wheels than ever in formula 1. Previously wheel size was 13 inches; now, it's increased to 18 inches. In addition, you will see low profile tyres with a tread width of 305mm front and 405mm rear. The diameter will be 720mm.
| | |
| --- | --- |
| Previous Wheel Size | Current Wheel Size |
| 13 inches | 18 inches |
There will be wheel covers and wake control devices available on the wheels. It will help manage the airflow. These changes will help the tyres not overheat while sliding too much. We appreciate the FIA, Pirelli, and all F1 teams working together to solve this problem.
Dealing with dirty air
Dirty air has been a major problem in formula 1 for a really long time. The car chasing can lose half the downforce in the corner because of this dirty air. This downforce gives the car grip, and losing half that downforce is a really big issue. Drivers become unstable to control the car when facing this dirty air.
Formula 1 has been working on this problem for a really long time. The front wing nose has been designed differently now. This revised wing design will now carry the dirty air and push it higher so that the car chasing behind faces less dirty air. 
Because of this, the car behind can now stay close in the corner without losing the downforce grip.
If you take a close look under the car, there's a 3D shaped floor there that will not disrupt the airflow for the chasing car.
I'm going to give you a scenery now. Previously the chasing car will face the loss of downforce up to 35% when the car was 20m behind and up to 46% when the car was 10m behind. But now the figures will be 4% for 20m and 18% for 10m. If that's not cool, I don't know what is.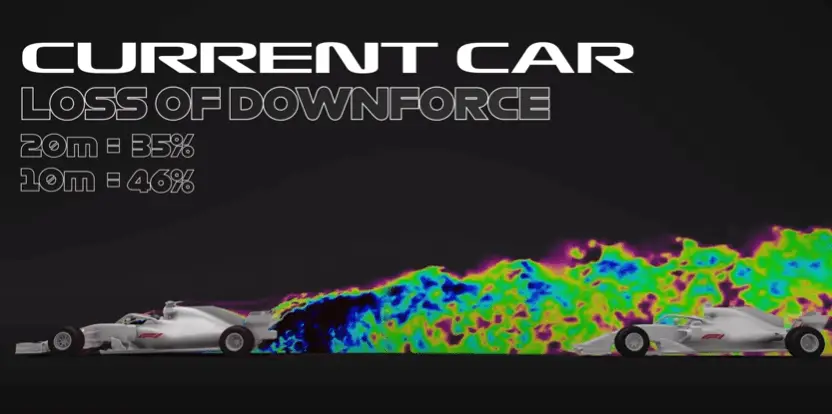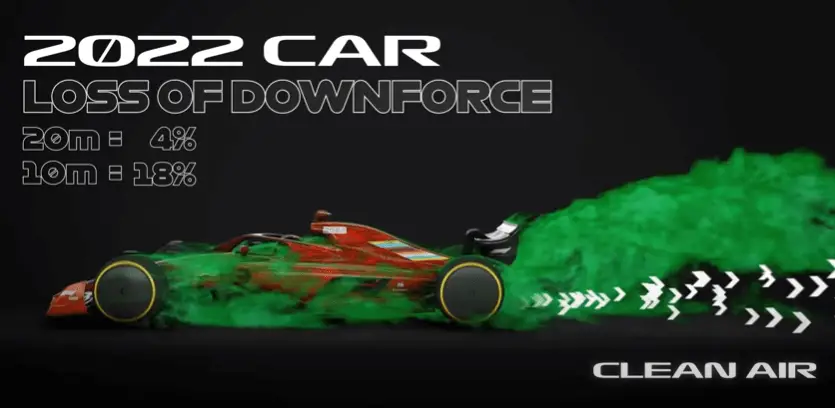 Changes in power unit fuel
If you're a fan of Formula 1s turbo hybrid power unit, then you're going to love what's coming next. This engine can easily turn a small amount of fuel into a large amount of energy. The battery system and energy recovery will be improved in 2022.
There will be an additional sensor unit in the power unit now. That way, the performances can be monitored even more closely. A new fuel will be used in the power unit; it's called E10. It is a biofuel, created in a sustainable way, which has 10% of ethanol.
Driver safety
Formula 1 has come a long way. Safety has always been a primary concern for FIA. In 2022, the front and rear sides of the car will have to withstand 15% more energy in the impact test. This will ensure more safety for the driver.
If you remember the horrific accident of Roman Grosjean in the Bahrain Grand Prix, then you will realize how important it is to provide the drivers with all the safety possible. Without exposing the fuel tank, the engine and chassis will be separated.
We all know chassis need to undergo multiple squeeze tests. These tests are designed in such a way that the strength of the chassis can be measured. 
Previously I talked about how the wheel size will be increased. Also, the chassis has to be stronger than ever. For these two changes, the minimum weight of the car has been increased by 5%.
When it comes to formula 1, we can't let another accident happen.
Investing more time in R&D
The engineers are continuously researching to make Formula 1 cars better each year. They have run 7500 simulations to monitor how to make the car safer than ever. This has generated half petabyte data. If you don't know what a petabyte is, let me clarify that half a petabyte is around 500 terabytes.
Now you know all the 2022 formula 1 changes. Technology is evolving, and so is formula 1. You will see more dramatic racing in the Grand Prix and fewer accidents, hopefully. Thanks to the amazing safety measures the FIA is taking.
At the time of writing this content, 2 races are already over. The season started with the Bahrain GP, then we witnessed the Saudi Arabian GP. From seeing these 2 races, I'm having this feeling that we might be seeing a new world champion and a new constructor champion. 
Ferrari is on top form. They are literally dominating the field. From practice day to qualifying to final race day, Ferrari is giving their top performances. They are constantly getting pole positions and they are also winning the races. Leclerc is now leading the drivers championship and Ferrari is leading the constructor championship. 
From what I said earlier, we will see neck-to-neck driving a lot this season. That's what we're observing so far. The car in the back is getting less dirty air and is able to drive with good enough speed to keep the pressure alive. 
Till now, we didn't see any major accidents. Ferrari, Red Bull, and Mercedes are fighting for the points. McLaren, and Alpine are trying to get in the top 5.
Other teams are also giving a tough competition. Winning the constructor championship won't be easy this year. Previously we've seen only 2 teams competing for that. But this year, I believe the story will be somewhat different. 
If you like this article, check out Go Kart Courtside.
This year I'm thinking of writing in-depth articles on each and every calendar race. You can check my 2 cents on the below posts;
Also, I've written some other posts as well, which are related to F1. Such as,
Everything you need to know about Saudi Arabian Grand Prix