Foldable Xiaomi MI M365 Electric Scooter Review
When it comes to an electric scooter, Xiaomi is a fairly popular brand that you can trust easily. Today, I'm going to talk about the infamous model Xiaomi MI M365 electric scooter. Here, you will learn all the pros and cons and find yourself whether it's the best-suited electric scooter for you.
The manufacturer is Xiaomi, but it's best known as the MI Electric scooter.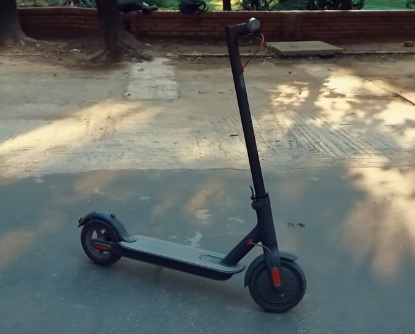 Portability:
This electric scooter is quite easy to carry around. It has a folding mechanism with which you can easily fold the scooter in half. There's a knob that you need to turn down, and you'll have your MI Electric scooter cut down in half.
The weight is only 12.5 kg, so you can easily grab the handle and move it around when you're not using it.
Suppose you're going on a trip with your friends and family in a car; you can fit the electric scooter in the back. Whether it's a lift or enclosed space, you can easily carry it with you. It's that handy.
If you want to go to your local gym, you can use this as your transport and keep it in the corner while you're pumping your muscles. Some girls might find it cute and approach you as well; just saying.
Height:
It's quite comfortable to ride this thing. Unless you're more than 6 feet, height should not be a problem for you.
Motor & Battery:
You must be wondering what is powering this amazing device anyway. Well, there's a 250-watt motor. 30 lithium batteries are powering this motor. Each battery is 42 volts.
Braking:
The Xiaomi MI M365 electric scooter has a mechanical disc brake. You will find the brake lever with the handlebar. It's just like pressing the brake in a cycle.
Weight Capacity:
Can you ride this electric scooter if you weigh 150 kg? No, unfortunately not. The maximum weight capacity, according to the manufacturer, is 100 kg. But then again, to get the maximum performance from it, the less weight from 100 kg, the better, you know what I mean.
Range:
When can you use this electric scooter anyway? Well, if you're planning to roam 30 km, then you can grab this and go. Because with a single full charge, it will serve up to 30 km. And to get that 30 km range, you need to charge it for 5 hours. The charger is similar to any basic laptop charger, so don't get confused between these 2. Under the deck, you will find the charging port and easily charge the electric scooter.
But one thing to keep in mind, after 1 / 2 years, the performance will drop significantly. You won't get the same performance after 2 years; just keep that in mind while purchasing this beauty.
Lights:
There are two lights in the Xiaomi MI M365 electric scooter. Front LED light and tail light. Front LED light can get handy when you're roaming at night. When you press the brake, the taillights will automatically blink. Now people behind you know whom to avoid crashing.
How to Operate:
In the MI Electric scooter, you will see a power button. On top of the power button, you will see 4 battery level indicators. With the indicators, you will realize how much battery is left. There's also a throttle button with the right handlebar. So let me get to the point on how to operate it.
First, you need to turn on the power button, then just a gentle push will start the electric scooter. Then if you press the throttle button, it will gain speed.
Modes:
So, in this MI Electric scooter, there are two modes that you can play with. One is the normal mode, and the other one is the economy mode. If you press the power button once, you will get an average speed of 25 km per hour. So this is the fastest speed you will get in this electric scooter. But the problem behind this mode is it will drain your batteries fast.
Another mode is the economy mode. To achieve this mode, you need to click the power button twice. The problem with this mode is obviously you will get less speed, 20 km per hour. But you will get more battery life during this mode. That's why it's called economy mode.
Mobile Application:
You can easily connect the scooter with a mobile app. In the app, you will see detailed information regarding the scooter. Like how much battery is left. What mileage you're getting, what speed you're getting etc. It's quite techy if you think about it.
Additional Parts:
The MI Electric scooter comes with two extra tires. So don't worry if anytime you run flat, you can easily replace the tires. You can easily ride the scooter if the roads are smooth unless it's a disastrous road. You should face no problem, actually.
You can easily ride on flyovers or upward hills with this electric scooter. You can move over speed breakers as well. Of course, the speed breakers need to be well constructed with a proper slope.
Waterproof or not:
This electric scooter is IP54 waterproof grade. So, it's safe to say there should not be any problem but then again, riding in the water is not safe as things can get slippery.
If you're riding this on a good road, then you'll enjoy the experience a lot, trust me on that. While you're on it, you will feel a small breeze on your face, people will give you extra attention, and you will feel like cloud nine.
With this, you won't ever have to face traffic. Due to its folding capability, you can carry it anywhere and keep it anywhere. It's very handy. The only downside of this Xiaomi MI M365 electric scooter is if the tire runs flat at any point, you'll face some pain changing it if you can't do it on your own. But hey, the pros are more than the cons of this thing
Tell me what you think about it. Do you like this model? Do you have this model?
Share this content with your friends if you think they should have one of these as well.
Check other sports content here.