TVS NTORQ 125cc Race Edition – My First Time Experience
My brother recently bought a scooter. The model is TVS ntorq 125cc race edition. Before that, my brother had never ridden a scooter neither did I. So that was the first experience of riding a scooter, and I must say, it was great.
First, let me give you my background. I've been riding a mountain bike my entire life. Since grade 3, I started riding the bike. I've used my mountain bike for my school, college & university. Check how I bought my first mountain bike.
So riding a bike is something I honestly enjoy. I've occasionally ridden a motorcycle. But my experience with the scooter was zero up until now.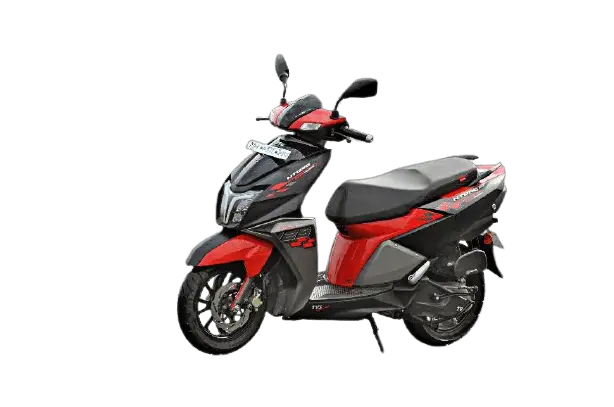 Getting the scooter in hand, I realized there's no gear in it. There's gear, clutch, accelerator, and brakes in a motorcycle. If you're driving a motorcycle, you have to engage both your hand and feet.
But to my utter surprise, I saw no sign of clutch and gears. All I have is an accelerator and hand break. It means I can rest my legs in there. There's absolutely no work to do for my legs.
I was very interested and got on the scooter. So basically, I can start the scooter in one of two ways.
Kick start
Autostart
So, I kick-started the bike, and the engine started running. Then I got into the scooter. All I had to do was throttle a bit with my right hand, and the scooter was moving very smoothly.
I was enjoying myself.
With the left-hand break, I can break both the front and back wheels. But with the right-hand break, I can only break the front wheel.
So I was using the left-hand break. The experience was pleasant as there's no tension of shifting gears. I can roam around like a boss in the street.
As the TVS ntorq scooter was new, it was still in the break-in period. So I didn't rave much. I was moving slowly, like 30/40 km/h speed. For someone who had never ridden a scooter before, it took me only 10 minutes to get used to it.
If you want to commute then, TVs ntorq 125 cc can be a good option. Under the seat compartment, there's vast space. So you can store a lot of things there. For example, if you are doing groceries, you can easily store some stuff under the seat and some things in front of your leg.
The top speed of this scooter is 95 km/h. Check the price.
It has a smart connect system. With this, you can sync your scooter with your mobile phone. First, you need to install an app from the Google play store or Apple app store. You can easily connect your phone from there.
You can do a lot of things with the app. For example, you can see where you parked your scooter last time. It is Bluetooth-enabled. It can assist you with your navigation.
TVS ntorq 125cc race edition is a very convenient scooter. There's a lot of space so you can carry someone in the back with you. The pillion can enjoy the journey as there's so much space for him available.
As I said earlier, I had no experience riding a scooter before this. So, I had zero knowledge of the scooter segment. I wanted to know if there's any community in my country which is specially dedicated to scooters. I searched on YouTube. I found ScooterMan. 
ScooterMan is basically a YouTube channel run by Aronnow Shanto. He has been making YouTube videos on scooters since 2019. At the time of writing this article, the channel has 213 videos. The videos are not in English; the language is Bangla. So if you're someone who's fluent in Bangla, then you can enjoy these videos.
There are multiple playlists on the ScooterMan channel. Let's cover them one by one.
Rider's Stories
There are 108 riders stories in this playlist. Basically people from different places come with their individual scooters. And they share stories about their journey so far with the scooter. 
Many people have been inspired by this channel and bought their first scooter after seeing the content of this channel. There are couples, young people, passionate bikers, officer commuters, etc. People share their experiences, and it's really fun to watch these stories.
If you understand the Bangla language, then you can check these videos for yourself.
There's another playlist named "Scooter & Bike Accessories". You can find anything and everything related to the scooter in this playlist. You can get information about the nearby good mechanic stores. This man is single-handedly improving the scooter segment in Bangladesh.
If you know the traffic condition of Dhaka (capital city of Bangladesh), then you know how hectic it is to reach one's destination. Dhaka is a small city with a lot of people. In the traffic, it's very hard to move by bike. You need to shift gears a lot, and it is super painful. 
A scooter can be the solution here. As there's no manual gear shifting, one can simply throttle and move within seconds. 
Aronnow Shanto makes travel videos as well. You can get the front view of everything. He makes very professional videos. 
If there's any problem with any scooter, he will share it with you. If there's any advantage of any scooter, he will share it with you. You will get the most authentic information from this YouTube Channel. 
Previously he used to ride Yamaha Nmax, but now he has switched to Honda ADV. 
You may be wondering why I'm talking about this channel so much. It's because this guy has done so much for the community that I feel like we should give back something. That's why I mentioned him. If you like his content, you can subscribe to his channel. That'll mean a lot to him. 
And don't forget to mention that TiansLab sent you there. Just kidding. 
That's it for today. Do let me know if you have a scooter or not. If not, are you planning to buy one? 
I really like the concept of the scooter and find it really convenient. I think in the future I'm also going to buy a maxi scooter. You know, those large scooters. Then I'll roam around the country. 
I'll let you know if that ever happens.
Let me know whether you liked this post or not. You can find more sports-related posts on this website. Do Check them.